Cats are too adorable pets to be left behind as you travel. And what better way to carry your furry munchkin than with a lovely cat bubble backpack? You get to enjoy your pet's company while you go about your business with ease
– killing two birds with one stone.
Why Cat Bubble Backpack ?
A cat bubble backpack is a smart way to tag your lovely pet along.
You can use different bags to carry your cat, but none says, "I love you" like a bubble backpack. Why not reward your loyal friend with a bag that ensures his well being?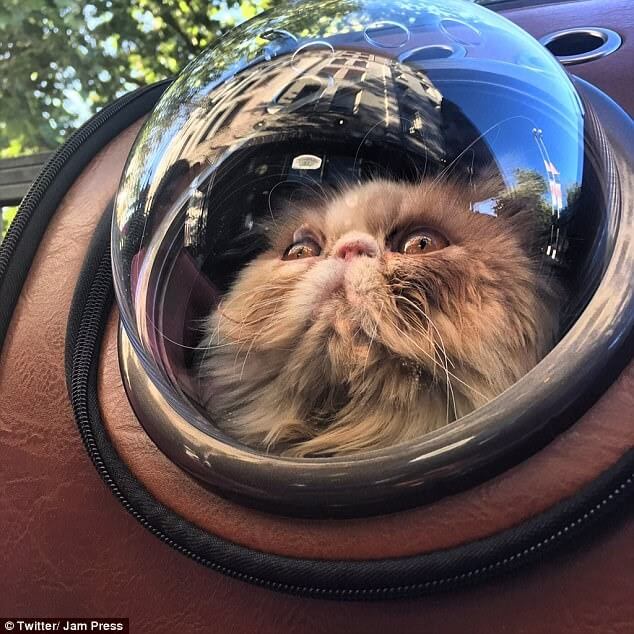 A bubble backpack assures you of safety, comfort, and convenience for your cat. Your pet also gets enough ventilation and viewing space with a backpack. You can now go for hikes, adventure, run errands, or tour the world without worries. The bubble backpack can also act as a car seat.
You are also likely to get countless compliments from friends, colleagues, and family because it is a way to combine functionality and fashion. Bubble backpacks come in unique, stylish designs that make you look trendy and cool. With the wide range of colors, you can get one of your preference that makes your cat look cute.
So, what should you look for when shopping for a cat bubble backpack?
What to Look For in a Cat Bubble Backpack
Functionality
The main purpose of a cat backpack is to provide a way to carry your cat around in a safe, comfortable way. So as you shop for a backpack, it is best to ascertain that it will serve the purpose.
Look for a good backpack that provides enough ventilation. It can get hot sometimes, especially during summer, so it's important to ensure your backpack will not make your cat suffocate.
Most bubble backpacks have numerous openings to let air in and out. Some have spaces located at the bubble itself, which is where your cat's head will be positioned most of the time.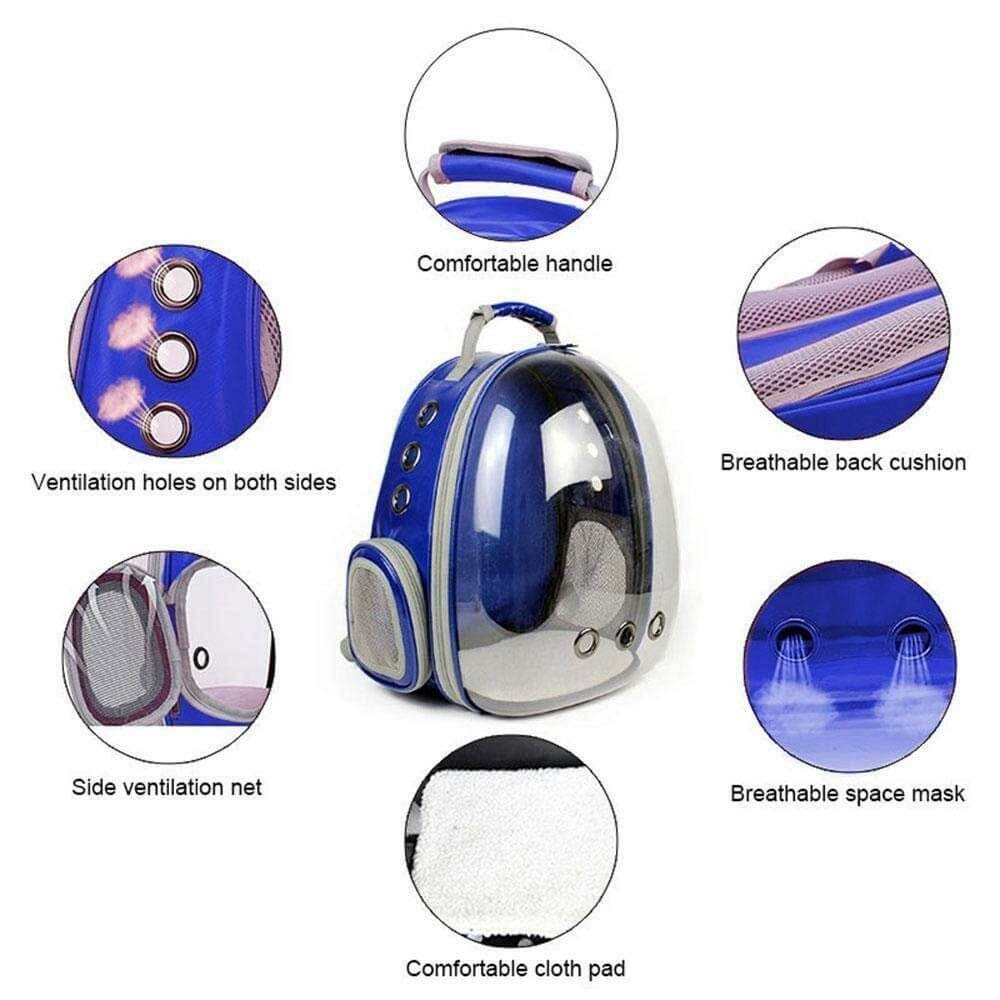 Staying in a bag can be uncomfortable, but it is worse if the bag is not spacious and the interior is hard or rough. Naturally, your cat might need to turn around because of the exhaustion that comes from crouching inside the bag.
Besides being spacious, bubble backpacks have a cushion on the bottom and back of the bag to provide comfort for your pet. The cushion on the bottom can be removed, making it easier for you to clean.
"A comfortable pet is a happy one."
You might travel for a long distance, so getting a backpack that is padded at the shoulders will come in handy. The pads will prevent the straps from digging into your shoulders, causing pain.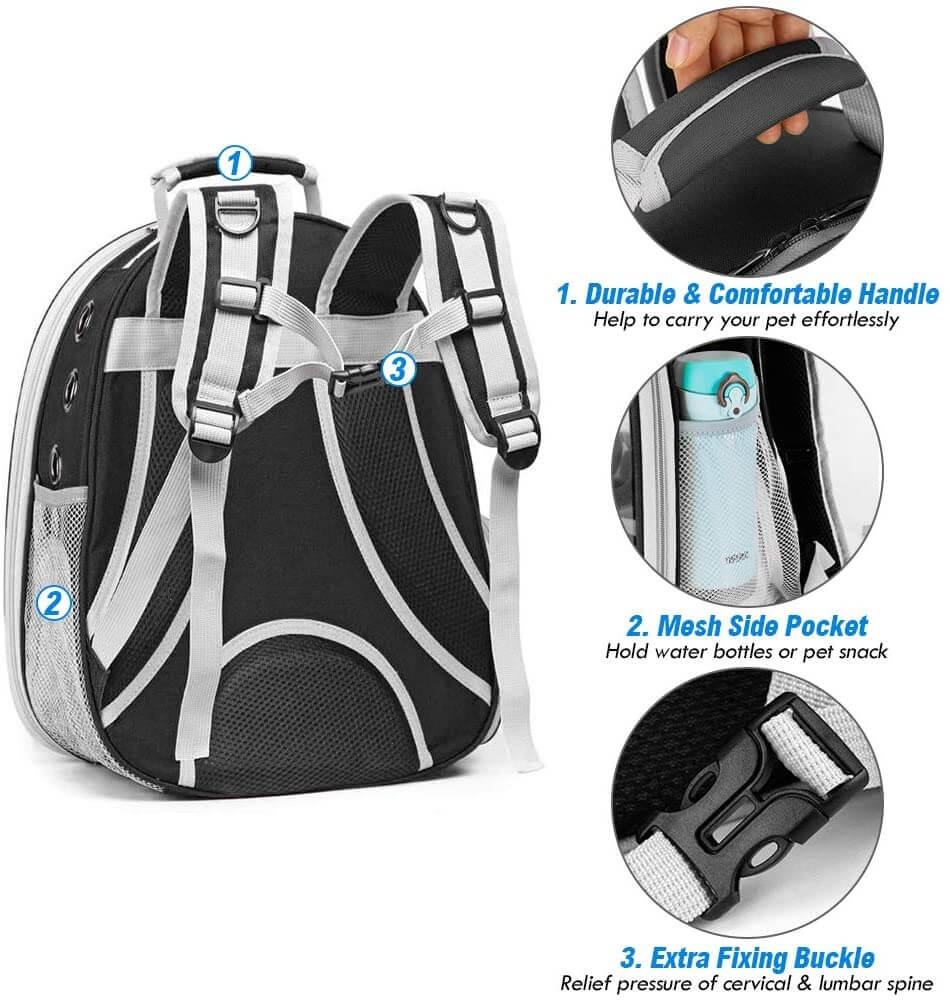 Also, check if the backpack has additional straps to tie around the chest and waist to distribute the weight. The extra straps will keep the backpack stable, which will prevent your cat from being jolted. Not only will your pet enjoy the ride, but it will also prevent any discomfort from bouncing as you move.
Quality
While shopping for a backpack, you might want to consider the material used. Look for a material that will last longer, and give you value for your money. Bubble backpacks are made of high quality and durable materials that are also eco-friendly.
The front exterior is made of a polycarbonate material, which makes it firm and maintains its shape. Since it is hard plastic, it protects your pet from harm in an accident and shelter from the rain. It's also prudent to be cautious of the effects of material used on your cat. Cat-friendly materials will ensure your pet stays healthy and does not melt inside the backpack.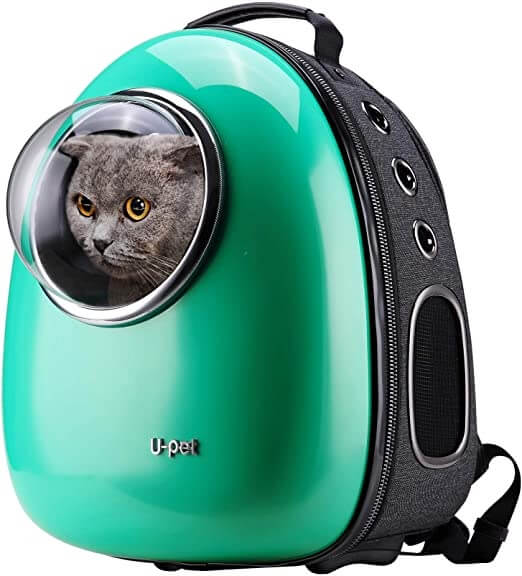 Your pet deserves the best. As you shop for a bubble backpack, pay keen attention to the stitching, particularly on areas that will bear the weight, for instance, the straps and the bottom of the bag.
The zip should also be firmly secured to avoid surprises when on a trip. The finishing on the inside might sound insignificant, but it might be the reason your cat refused a certain bag. Always ensure the finishing is smooth and neat.
Design
Bubble backpacks feature top-notch designs that are appealing. Most people you meet will be blown away by it. You want to carry your pet often when you have a stylish backpack that earns you compliments all day. What's more, you get to show off your cute bubbly pet. On the other hand, your cat enjoys the view and hears the sounds making the trip interesting.
Bubble backpack designs will leave you spoilt for choice:
A full bubble backpack has a semi-sphere that lets your cat have a wide view range. The astronaut look of your cat is a sight to behold for those walking behind you.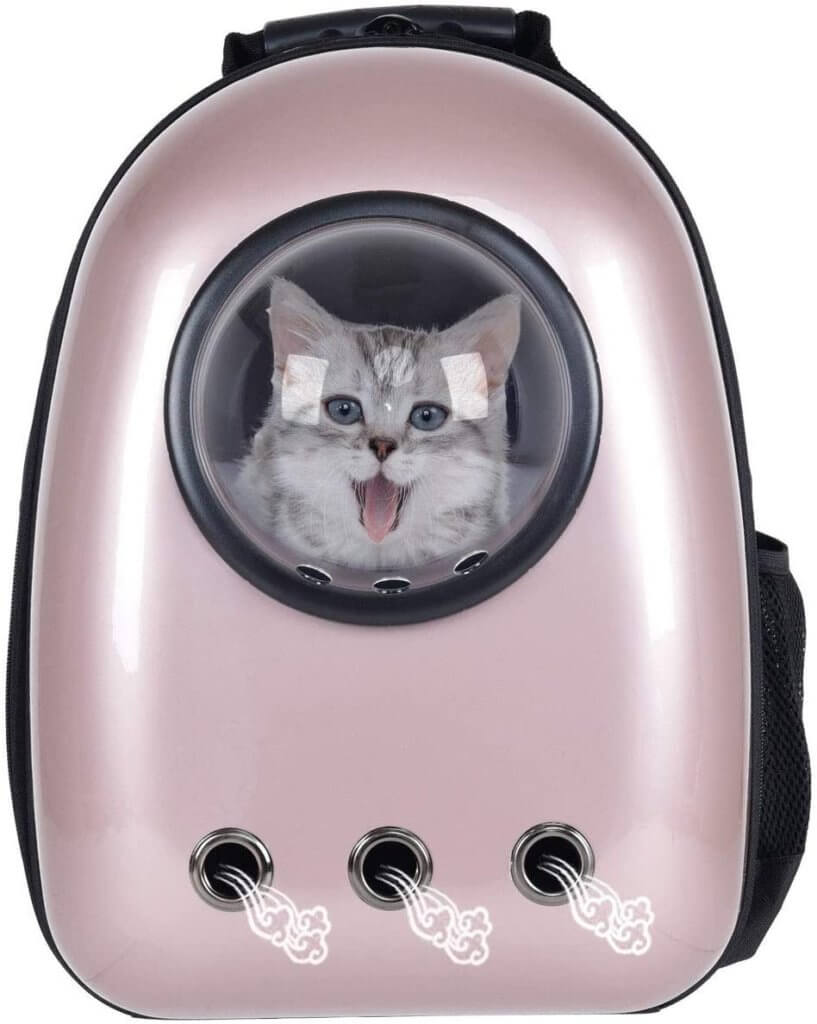 Top bubble backpack is yet another option for you. The bubble is located at the top giving your cat the feeling of not being confined.
Fully transparent bubble backpacks are see-through. It's ideal for your kitty friend that has a strong spirit and wants freedom. It's also easy for you to check on her from time to time with this clear bubble.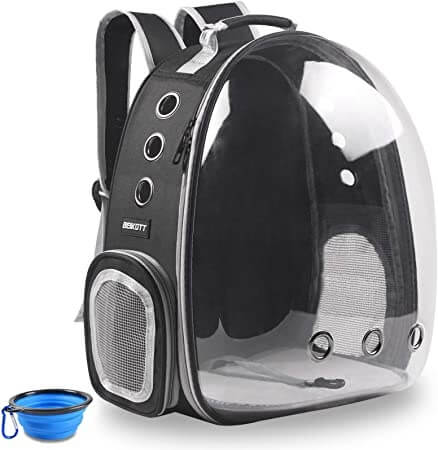 How Easy to Place Your Cat
Your cat might freak getting into a bag, so it might help to get a backpack that is easy for your cat to enter or get out. Some bubble backpacks have several entry points for your pet to choose the one they prefer.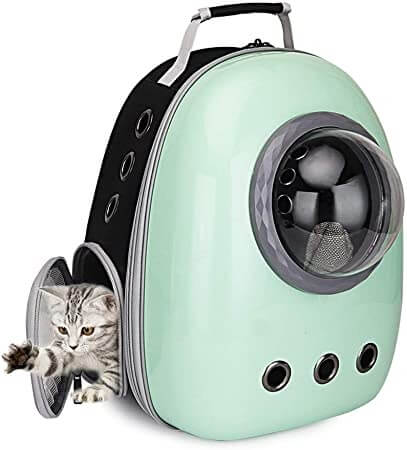 Size of cat and weight
The size of your cat will inform the size of the bubble backpack that you chose. Getting the weight and height measurement using a scale is a sure way of knowing which backpack to pick for your Charming pet.
Cat bubble backpacks come in different sizes: large, medium, and small. The dimensions are indicated in inches and lbs or kgs.
Cat space backpack
Bubble backpacks are designed to create room for your cat. They are made of a non-collapsible material; hence, your pet can crouch, stand, or turn once inside. However, the backpack has to be the right size for your cat.
Expandable Backpack
If you are a lover of hikes and camping, you might want to try expandable backpacks. Bubble backpacks can be expanded to create more room for your purr pet to relax, stretch, and play around. It can also make a perfect bed when you're out camping.
The airflow also increases on the inside, making your pet feel at ease.
Airline Approved
If you travel frequently or might travel at some point, it is best if you purchase a backpack that is approved for air travel. A cat bubble backpack acts as a seat while on the plane, making it the best choice. The regulations may differ depending on the airline.
Bubble backpacks meet the basic requirements: waterproof material at the bottom, proper ventilation, and security lock. Since pets are not allowed to get out, the bubble ensures your pet has a clear place to view, making it easy to contain her.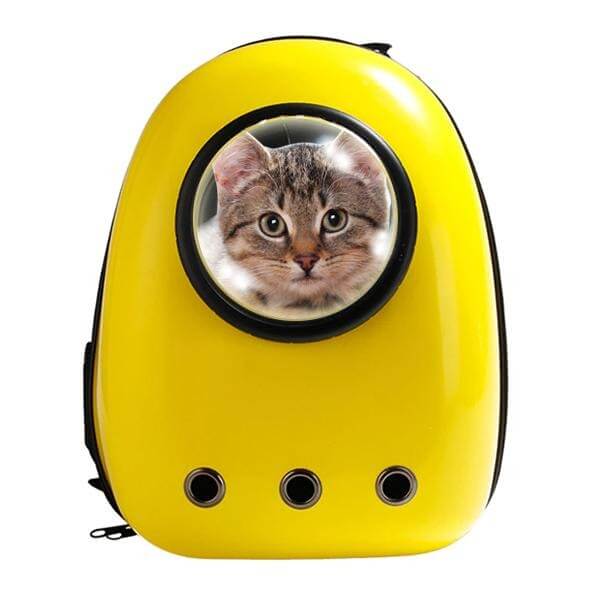 Color
Different colors are available to suit your taste and preferences. It would be lovely if you get a color that compliments your pet's.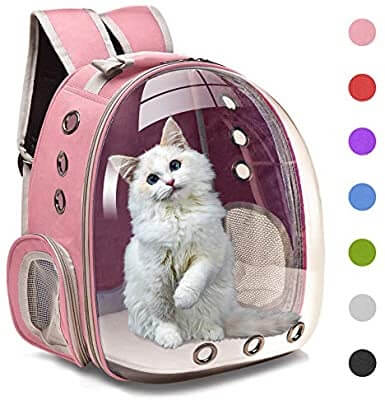 Other accessories
A tether helps keep your cat secure and prevents her from escaping while in a plane, park, or anywhere else.
Check if the strap for connecting the harness is provided and is firmly secure to prevent your cat from jumping out.
A rolling pack is such a savior for those times you feel tired, lazy, have to walk for long, or need a break from carrying your cat, especially if he's heavy.
Some bubble backpacks provide the rolling pack feature, so you only connect it when you need it.