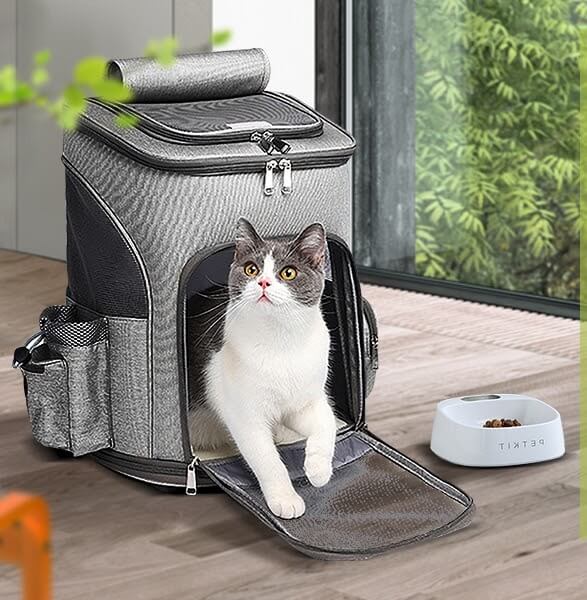 If you have a large cat, you understand how hard it is to carry it around as you go to the vet, hike, or travel. A cat carrier designed for a fat big cat will ensure you don't leave your feline baby behind.
Do You Need a Cat Carrier for a Big Cat?
Large cat carriers are easy to carry or move around because they have wheels and rolling features. It saves you from backache because of lifting a heavy pet.
The versatility of large cat carriers makes them a must-have. One carrier can perform multiple functions.
For instance, there are cat carriers you can use as a backpack, rolling pack, car seat, and stroller at the same time. Isn't that awesome?
It saves you from buying many cat carriers, especially if you're fond of traveling.
Your furry buddy will also be safe and happy because the mesh or clear window protects it from bug and insect bites.
Nervous and shy cats that love to hide can do so in a large cat carrier. Hiding makes your unrelaxed pet feel safe. You can cover your pet with a towel or roll down the cover attached to the carrier.
Best Overall Cat Carrier
This cat carrier is amazing because it is multipurpose: Backpack,Car Seat, Rolling Carrier, and Cat Stroller.
It can also be folded flat for easy storage.
Most airlines approve of it and it fits a large cat comfortably.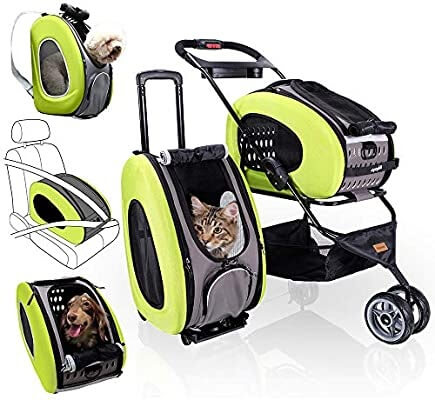 Features to Look for When Buying a Carrier for Large Cat
Let's say your furry pet is 20lbs (9kgs), and your carrier is about 8lbs making a total of 28 lbs (12.7kg) for you to lug around, which is not healthy. Movable carriers are the best for a large pet.
Wheels are great features to consider when looking for a large cat carrier. For convenience, look for wheels that make a 360° rotation.
The rolling part comes in handy when you have multiple luggage or feel overwhelmed.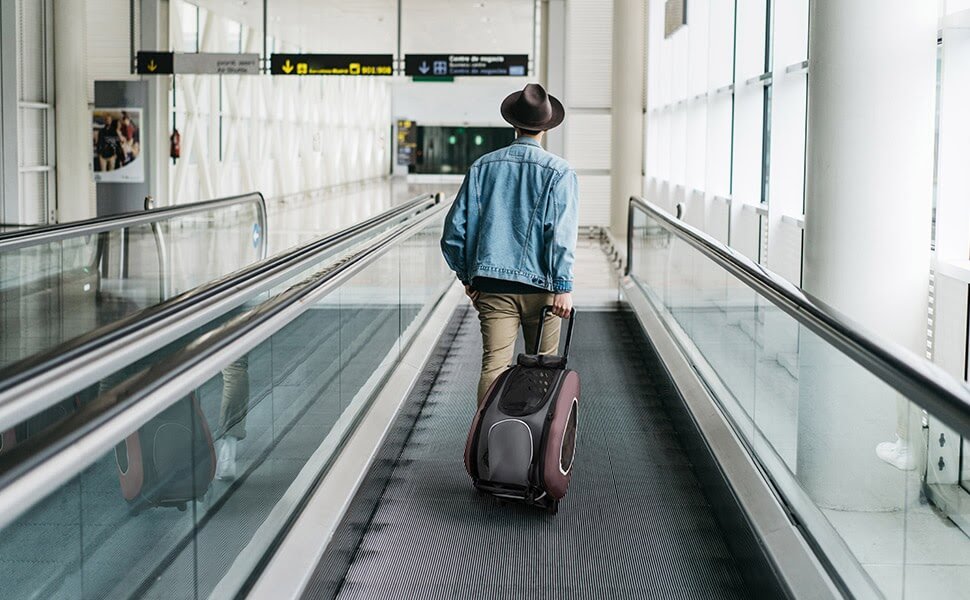 Not all bags are fit for airline travel. Airlines are strict with their regulations because they want to ensure all customers are safe and comfortable.
Imagine if your anxious pet were to escape from its carrier in a plane, it would cause chaos.
Kitty waste has an unpleasant smell that would scare away the other passengers. Though different airlines have different requirements, most advise a waterproof carrier to prevent urine from Leaking.
Your pet should also be locked inside a well-ventilated carrier. Check with the various airline companies to know their requirements for cat carriers.
A quality carrier is durable. Because of your cat's large size, get a carrier that will not sink in at the bottom.
It should be sturdy to support your pet's weight. Fortunately, most large cat carriers have a metal structure to keep them firm.
Check also that the wheels spin smoothly and don't fall easily.A carrier made of oxford material will serve its purpose because it is high quality and durable.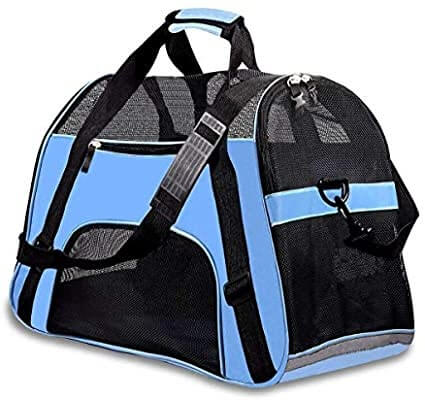 A cushioned carrier with a pad at the bottom provides comfort for your furry pet. It should be spacious enough for your pet to stay in a comfortable position. Crouching the entire time will exhaust your dear pet.
A handle helps you pull the carrier instead of lifting it. The handle height should be comfortable for you. Look for a carrier with an adjustable handle for you to adjust it to match your height.
Several entry points allow your pet to choose the most comfortable one.
Safety is your topmost priority. A standard carrier has a mesh on multiple sides to make it breathable.
Brakes are also crucial to stop the carrier. Multifunctional brakes can cause an accident when crossing a busy street.
Ensure the zippers are working and have clips for locking to prevent your cat from opening the carrier.
The carrier needs to have safety buckles for fastening it firmly to the car seat or under the seat in a plane.
Check if you can fold the carrier for easy storage in the car trunk or storage at home. A bag for stowing and carrying the carrier when not in use is excellent.
A removable fabric lining and cushion pad make it easy to clean. It is best if the fabric and pillow are machine wash friendly.
Cat carriers have a maximum load capacity. Ensure you get a carrier that can support your cat's weight, so it lasts long.
Naturally, your cat might pass urine while you're on long-distance transit. Sometimes your cat may vomit, especially if overfeed or because of the nauseating feeling caused by traveling.
A waterproofed bottom prevents the urine and vomit from passing through.
The carrier should also protect from extreme weather events.
Large Cat Carrier Designs
All the carriers featured here have adequate ventilation. Several mesh openings allow air to pass through.
They are also sturdy because most of them have a metallic frame for structure.
The oxford material of the carriers makes them high quality and durable. Besides, your pet will not cause damage by scratching because the fabric is strong and resistant.
The carriers have several doors, which is essential when you have a big or stubborn cart. The front, top, sides, and back entry point in most carriers make it easy for your feline friend to enter and come out at will.
You can wash the padded cushion and fabric lining because they are removable and machine washable.
The extra space that comes with these carriers will allow your furry pet to sit, lay down or stand.
You don't have to worry about your cat escaping because the carriers come with robust, secure zippers and clips for locking.
The cat carriers also have buckles to fasten to the car seat so your cat will not bounce or get injured.
Your pet will love it.
Airline Approved
Every airline company has its requirements and regulations; it's best to confirm in advance, so you comply
MASKEYON Extra Large Cat Carrier – an excellent choice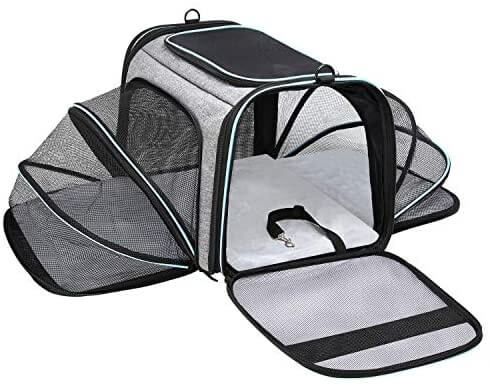 Coopeter Cat Wheel – 1st runners up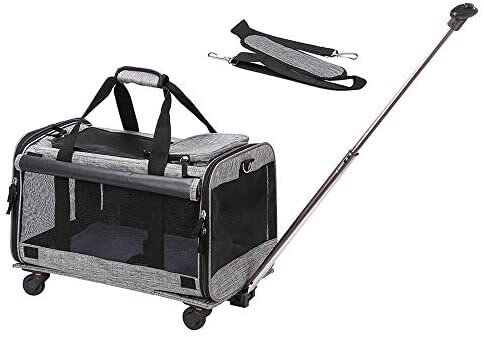 Cat Strollers
Is your feline friend injured or physically impaired? Did your pet undergoe recent surgery, or is she on medication, making her feel drowsy? Well, a stroller might be what you need to ease the shock, pain, and stress that your cat experiences.
Pet Gear Ultra Lite is the best stroller you can get. It has excellent ventilation and smooth spinning wheels.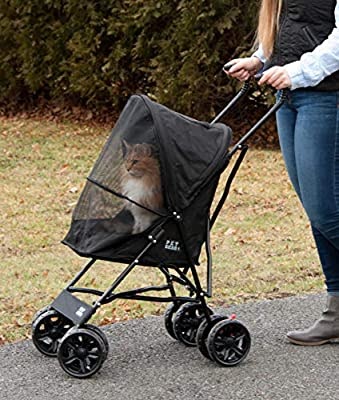 PETIQUE Cat Stroller – 1st runners up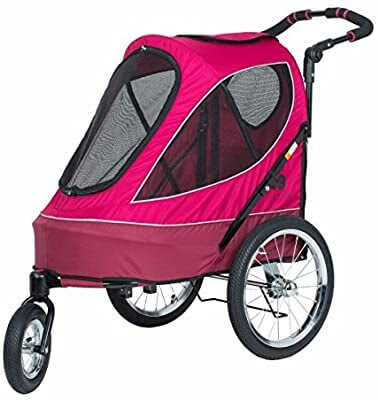 Cat Carrier with Wheels
MOV COMPRA is a great cat carrier with wheels
Katziela Pet Carrier is also an excellent one.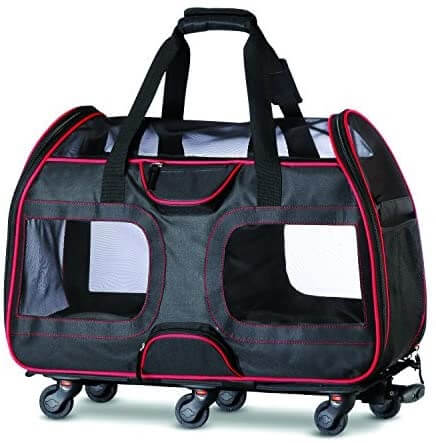 Rolling Cat Carrier
The best one goes to Lollimeow Rolling Carrier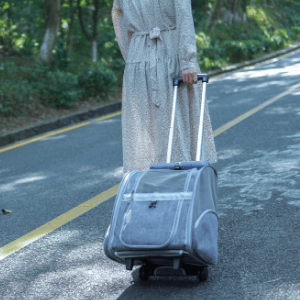 KOPEKS Cat Travel Carrier is the first runners up.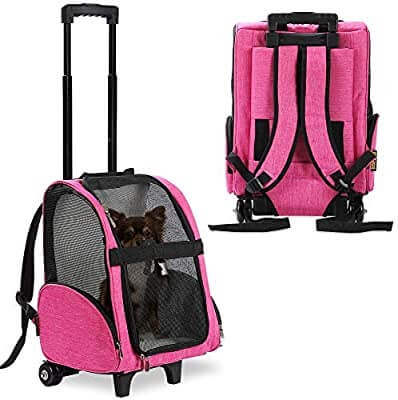 Tip: How to Know the Size of Carrier to Buy for your Cat
Choose a cat carrier based on the weight, height, and length of your cat.
Weigh your pet using a cat weighing machine to know that exact weight.
Measure from shoulder to floor to establish the height.
Get the length by measuring from neck to base of the tail.