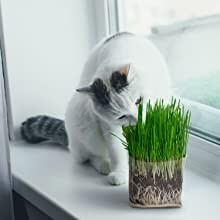 Do cats eat grass? (Sounds weird, right?) Cats are carnivores. They get nutrients from eating meaty dishes. Well, occasionally they will be interested in cat grass.
Every so often, you might find your cat eating some grass. While cats enjoy the chewing, they eat grass with an aim too.
Your cat ingests a lot of hair, which might twin in the intestines forming a hair ball, and put your cat's life at risk. Your cat knows how to dispel such stuff by inducing vomiting.
Meat is not fibrous, so your cat might experience indigestion. Cat grass provides fiber, which is useful for digestion.
Instead of risking your cat eating dangerous plants, why not provide safe cat grass?
What is Cat Grass?
Cat grass is not the ordinary grass found on your lawn. It's a kind of grass that you grow from seeds like rye, oat, wheat or barley. Although your cat is carnivorous, cat grass is safe and beneficial to your feline friend.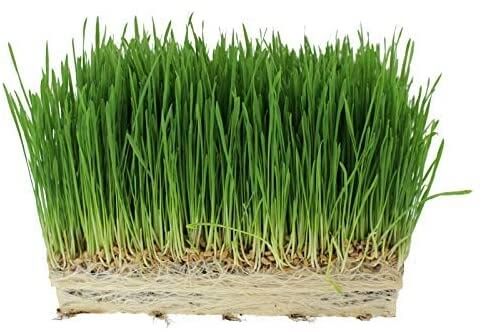 Cats don't eat grass because they are hungry but because it's a natural way to have a healthy gut.
"A healthy gut is good health for your cat."
Read on to find out how your cat benefits from eating grass.
Why do Cats like Grass?
Even indoor cats love to go outdoors because aside from playing, they get to chew grass. It's a cat instinct.
However, not all grass is good for your cat. Some grass may contain herbicides and fertilizer, which is harmful to your cat. Cat grass is safe because it's organic and doesn't contain dangerous chemicals.
Chewing on grass might indicate that your cat is deficient in minerals and vitamins or wants to cleanse its body of toxins.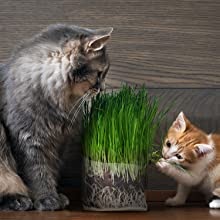 Benefits of Cat Grass
The fiber in cat grass helps your cat speed up digestion. Indigestion is a common problem in cats. Eating cat grass relieves indigestion.
Besides fiber and chlorophyll, it is rich in minerals, vitamins, and antioxidants, which can benefit your cat.
Your lovely pet will enjoy increased bowel movement and reduced constipation because it's a natural laxative.
Eating cat grass helps your cat expel unwanted substances like hairballs from the body. Cats ingest their fur as they cleanse themselves. They also consume feathers or bones when eating a rodent or bird they hunted.
The grass induces vomiting; thus, your cat gets rid of any ingested fur and harmful substances. Because your cat is carnivorous, he does not have the enzymes to digest grass; hence may vomit immediately after.
Cat grass further aids in expelling or preventing parasite infestation. Chewing on the grass also keeps your cat relaxed.
Does your cat destroy furniture by chewing on it? It might be time to introduce cat grass, which will keep your cat busy and satisfy an instinct.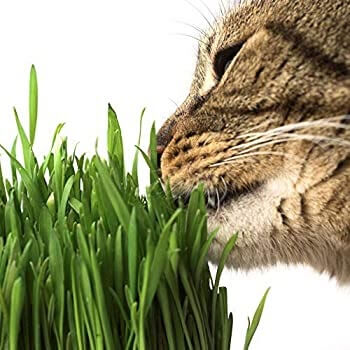 Where Do You Get Cat Grass?
You can buy or grow your own. Thanks to the internet, you can purchase grass for your cat at your convenience and have it delivered to your doorstep.
Store bought cat grass is fresh, affordable, and saves time. It's also beautifully packaged to add decor to your bathroom or counter top
Online platforms like Amazon and others have a variety of options that you can select from. Whether you choose to buy or grow, it is essential to ensure a regular supply so your cat doesn't eat the ordinary grass, which is unsafe.
Reclaimed Barnwood Style Planter Wheatgrass Kit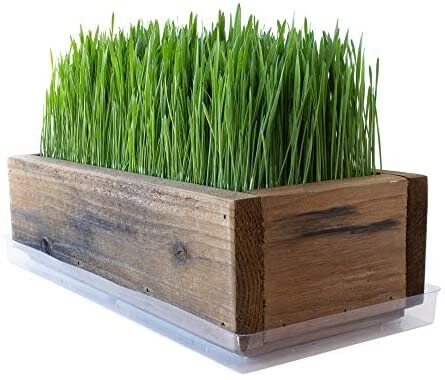 How Do You Grow Cat Grass?
Cat grass grows from barley, oats, rye or wheat seeds. Pet stores have kits to get you started on growing your grass.
You can grow it indoors or outdoors. It's great to grow indoor in a container that your cat won't topple over.
It's also wise to let your cat get accustomed to the cat grass you've planted, so it doesn't eat any other plant.
Below are steps you can follow in growing your own grass:
Sow seeds a few inches deep into the soil; you can use your finger to make the holes.
The soil needs to be moist and well-drained for germination to take place. Excess watering might cause the seed and roots to rot.
Avoid taking the plant outside during winter. For optimal growth, the plant requires direct sunlight.
It will take about three days before you see the plant sprout.
Note
To ensure a steady supply of the grass, you can sow seeds every month.
Compostable Cat Grass Grow Bag Kit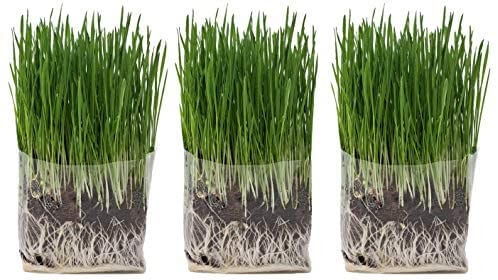 Can You Grow Cat Grass if You Can't Access Soil?
You can grow some grass for your adorable feline friend without soil. Below are steps on how to grow it without soil:
Use stones in place of soil but be sure to get the ones for growing.
Fill a container with the rocks but leave about ⅓ space
Spread a paper towel on top of the stones
Place pre-soaked seeds on top of the towel
Pour some water on the stones to the level below the paper towel.
Please place it in a place where it can get some light and leave for a few days to sprout.
How to Keep Cat Grass Green
Did your grass turn yellowish or brown after a few days? Cat Grass has a short lifespan. At some point, it will dry out and wither.
The reason why it turns yellow quickly is because of storage and watering. Too much water will make it rot; water sparingly.
Storing the grass in direct sunlight or temperatures below 16° and above 20° might cause the turn in color. Avoid storing the grass in the fridge; keep it in a place to get indirect sunlight.
Store bought grass is planted in a small container and is crowded to prevent the plant from growing to its full length. Naturally, it will turn color because there's no room for growth.
Cat Grass is an annual plant. It takes about a year to grow to its full height and size. However, the mature plant is not best for your cat because it's hard, not juicy, and might cut your lovely feline pet.
Trim the grass to about one and ½ inches for new shoots.
Cats find new baby grass palatable because it's tender, fresh, and juicy. So, avoid planting the grass in a large container. Instead, have a couple of pots going that are two weeks apart.
Frequently Asked Questions
How long does cat grass last?
Cat grass stays good for about three weeks. It's best to water after two or three days, and replace the plant monthly.
What is the Difference between Cat Grass and Catnip?
Catnip belongs to the mint family, and it results in mental stimulation while cat grass is safe and healthy for your cat. Cat grass is full of vitamins, antioxidants, fiber and minerals.