A cat's safety is a top priority if you love your cat. Using a cat backpack is a tested way to ensure your cat is safe and all cuddled up while at home or as you travel.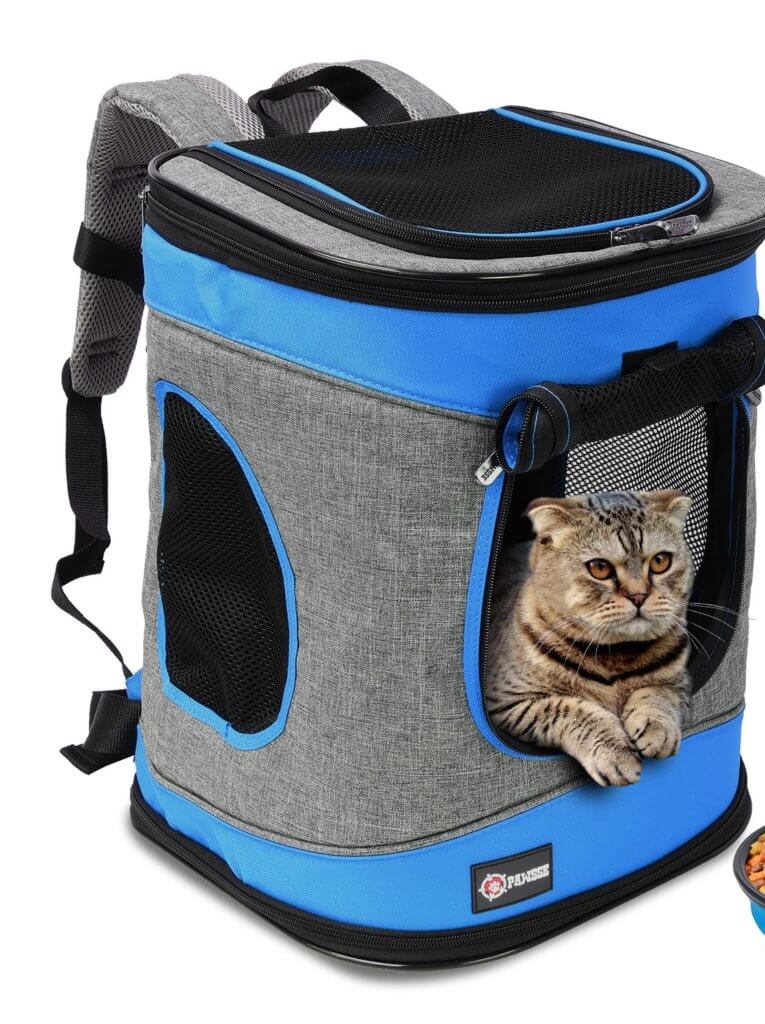 What is Cat Backpack ?
A cat backpack is the in-thing among cat lovers. It is used to carry a cat on the back, unlike traditional cat carriers. It comes in different designs, sizes, and colors to suit your taste and needs. The design features two main styles: backpack carrier bags and bubble backpacks.
Cat owners prefer carrier backpacks because of comfort and affordability while bubble backpack is popular, especially with celebrities due to its stylish design that makes you look cool.
Who Needs a Cat Carrier Backpack?
Trips to the vet are inevitable if you own a feline pet. So, you'll need a carrier for your pet. What better carrier than a backpack?
Do you frequently travel either by road or air? Are you adventurers? If you do, you certainly need a cat carrier backpack. It's useful for taking your cat with you on a hike, adventure, or camping. Besides, you can use it to take your cat out on strolls or go with him to your workplace if you feel leaving him home won't be good for him.
A cat backpack leaves your hands free as you walk, making it convenient.
Types of Cat Carriers
Different cat carriers are available in the market; the challenge is getting the right one for you and your cat.
There are traditional cat carriers that range from soft to hard cat carriers. However, they cannot rival cat backpacks, which are flexible and comfortable. Cat backpacks are easy on you as you carry your cat around.
A soft carrier bag offers little protection for your cat from injuries. Accidents do happen. Your cat might get squashed while under the seat or someone might drop something harming your pet in the soft carrier.
Differences Between Cat Carrier and Cat Backpack
Unlike traditional carriers, which you carry by hand, backpacks are wearable on the back, leaving your hands free. The weight also gets distributed to the shoulders and waist through several straps. The distribution of weight coupled with free hands makes you swift; thus, you move faster and have fun while at it.
Taking the bus or train can be unpleasant while carrying something in your hands. Many cat owners who don't have a car find themselves in such situations where they have to use public transportation or walk. Carrying your cat by hand as you walk for some distance can be exhausting.
A cat backpack helps you to make the journey less stressful. Cycling is also possible with a bag than with a traditional cat carrier. Your cat also feels secure close to you while cycling.
Cat carrier boxes are heavy and bulky and might need extra hands to carry.
Cat backpacks make your cat feel secure than traditional carriers. A backpack can be worn on the back or front, making it easy for you to check on your pet. The closeness that comes with that contact on end or front is reassuring for your cat. He can get to cuddle close to you and relax from the anxieties of moving from home.
There is less bouncing from side to side when using a cat backpack, unlike a cat carrier. A backpack is sturdy, especially when the straps are buckled on the chest and waist, making your cat calm. As a result, it helps in addressing any distress that your cat might experience.
Most cat backpacks can be folded to make them small, unlike most carriers that are cage-like. Backpacks can be made to fit under a seat in a plane, allowing you to stay close to your furry munchkin.
The extra pockets that come with backpacks make the ideal for hikes and adventures. You can put treats and water bottles for yourself and a water container for your dear cat.
Best Carrier Backpack for Big Cat
Getting a backpack that fits a big cat comfortably is an uphill task. If you manage to get one, it comes at a high price. Most backpacks cater to small to medium-sized cats. If your cat is significant, you do not have to be anxious anymore. There's a backpack that has been developed targeting the big cats.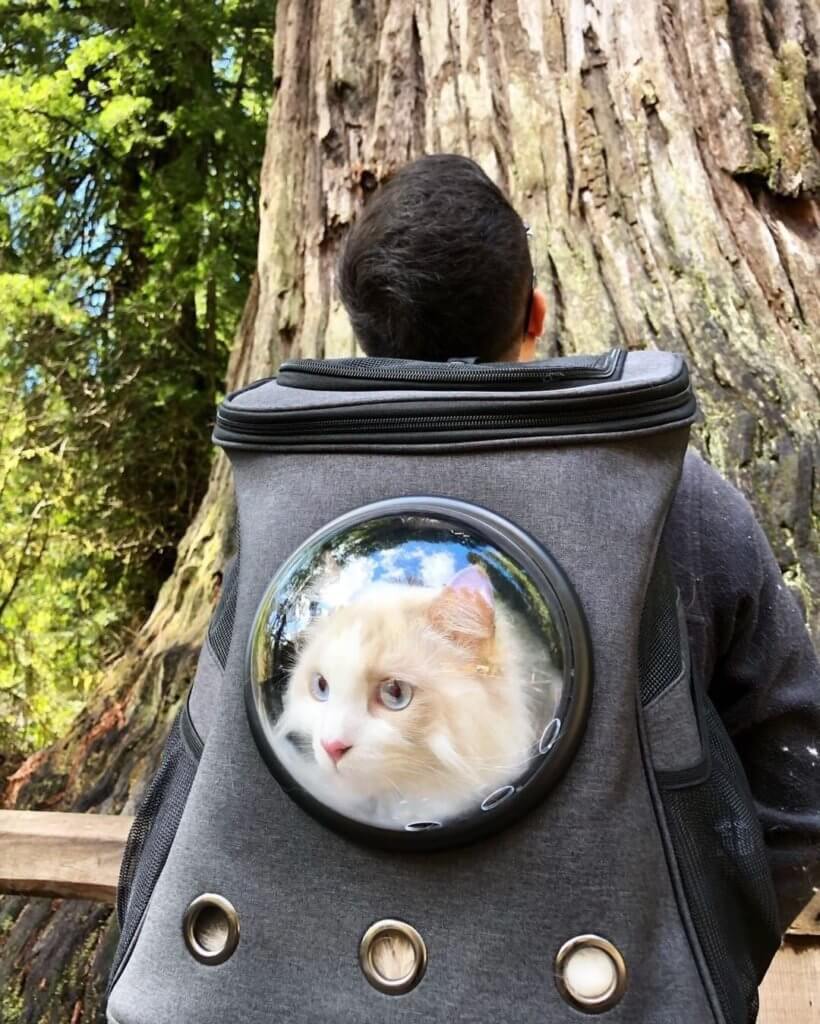 Spacious: can carry a 20 lb cat or two medium-sized ones
Bubble window for wide view range
The bubble can be replaced with mesh.
Pockets for extra storage
Several entry points
Both waist and chest straps and buckles
Leash and tether attachment
Numerous mesh windows for ventilation
Best Comfort and Easy to Enter Backpack.
Getting a backpack you like is one thing, but getting your cat to like it is another. A backpack that has several entry points encourages your cat to like the backpack and choose the favorite entry point.
Getting your cat used to a backpack might take time. Some cats will love their backpacks, while others will have a hard time. You'll need to be patient with your kitty pet. Give him time to explore and put toys in it. You can also put some treats inside and leave it open.
Petsfit Backpack is one that your bundle of awesomeness will love. Besides convenient entry points, it has other features that make it great for comfort and safety.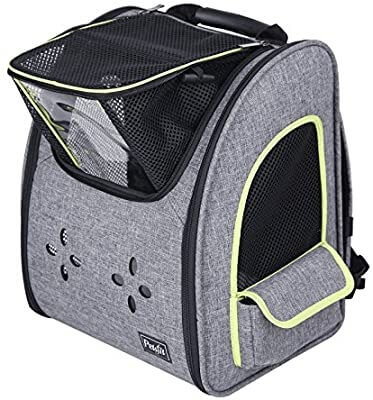 Mesh windows for ventilation
Lightweight
Padded on the inside
Tether attachment
Sturdy bottom; it doesn't sink in.
The top window for cat to pop head outside
Beautiful design
Waist and chest straps
Trendy Backpack
Cat backpacks have become a fashion statement thanks to an increasing number of celebrities taking their feline pets out in them. Designers have not failed cat lovers either by producing state of the art designs that are both stylish and functional. One such cool bag is the Portable Travel Pet Carrier Backpack
Bubble window
Mesh for replacing bubble window
Padded straps
Chest and waist straps
Airline approved
Foldable
Holes for ventilation
A removable cushion on the bottom
Sturdy- holds shape and does not give in to weight.
Tether and leash
High-quality leather material for easy cleaning and water-resistant
Spacious
Other Tips When Traveling with Cat Backpack
Cats prefer staying at home once in a familiar environment. Traveling can cause your pet some distress. Here are useful tips to help as you travel:
Handling a mess in the carrier
Have a pack of wet wipes in case your pet messes in the backpack
If the cushion on the bottom is not waterproof, add a waterproof material, then some absorbent cloth on top.
Traveling with your cat
Have identification details on the cat's harness in case it gets lost
Ensure the zip is in place and avoid opening it unless your pet has a tether
Have your cat documents ready
Carry extra blankets during winter and Icepacks during summer to cool your cat
Avoid feeding cat before a trip
Carry enough water and a can